Some of our Recent Happy Customers

---
Customer:  Ed Tagala of Rocklin, CA | Vehicle:  2013 Ford F150 Pickup | Sales:  Alex Panchenko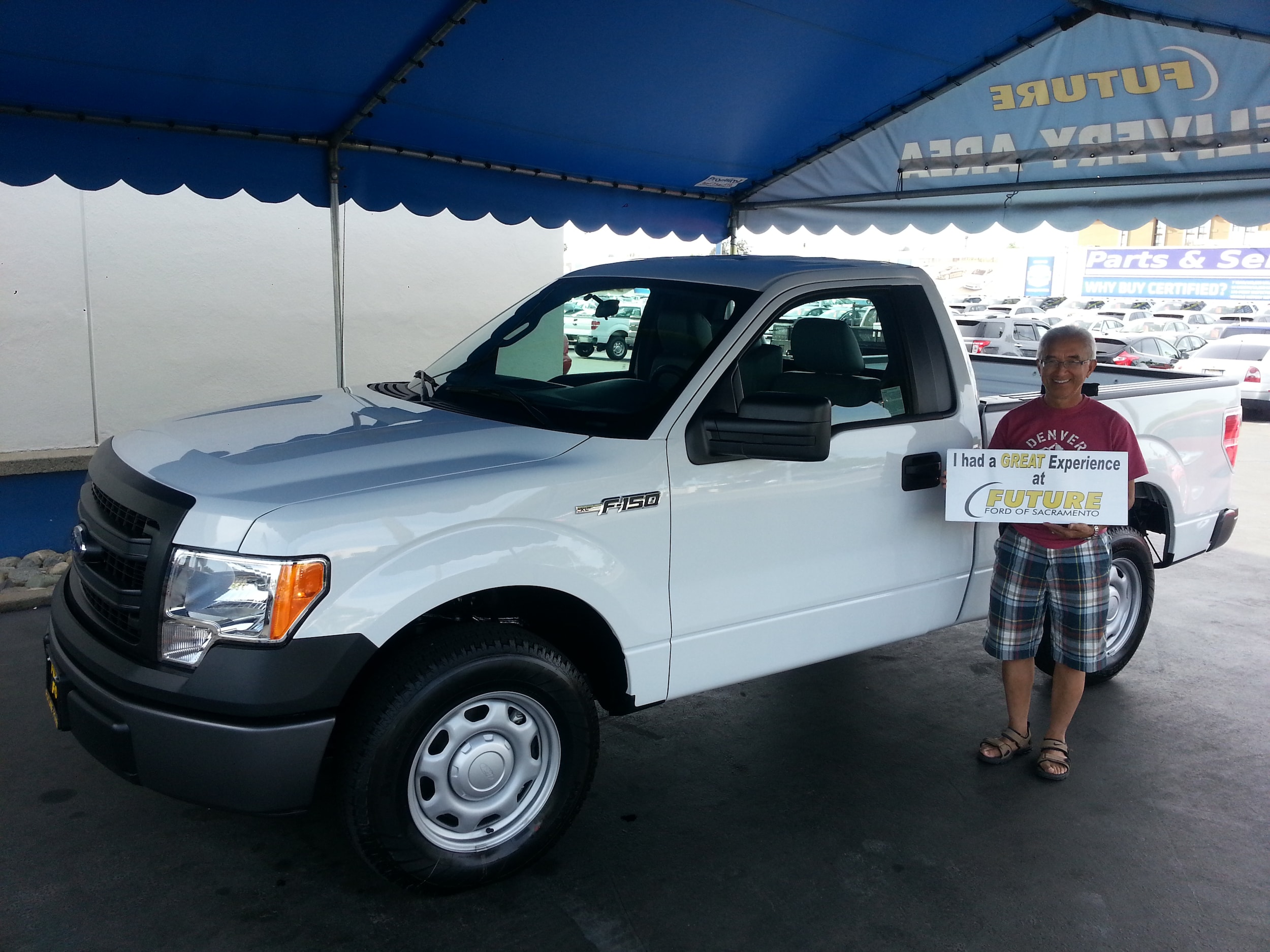 ---
Customer:  William and Michele Landley of Valley Springs, CA | Vehicle:  2011 Certified Pre-Owned Ford F150 Pickup | Sales:  Alex Panchenko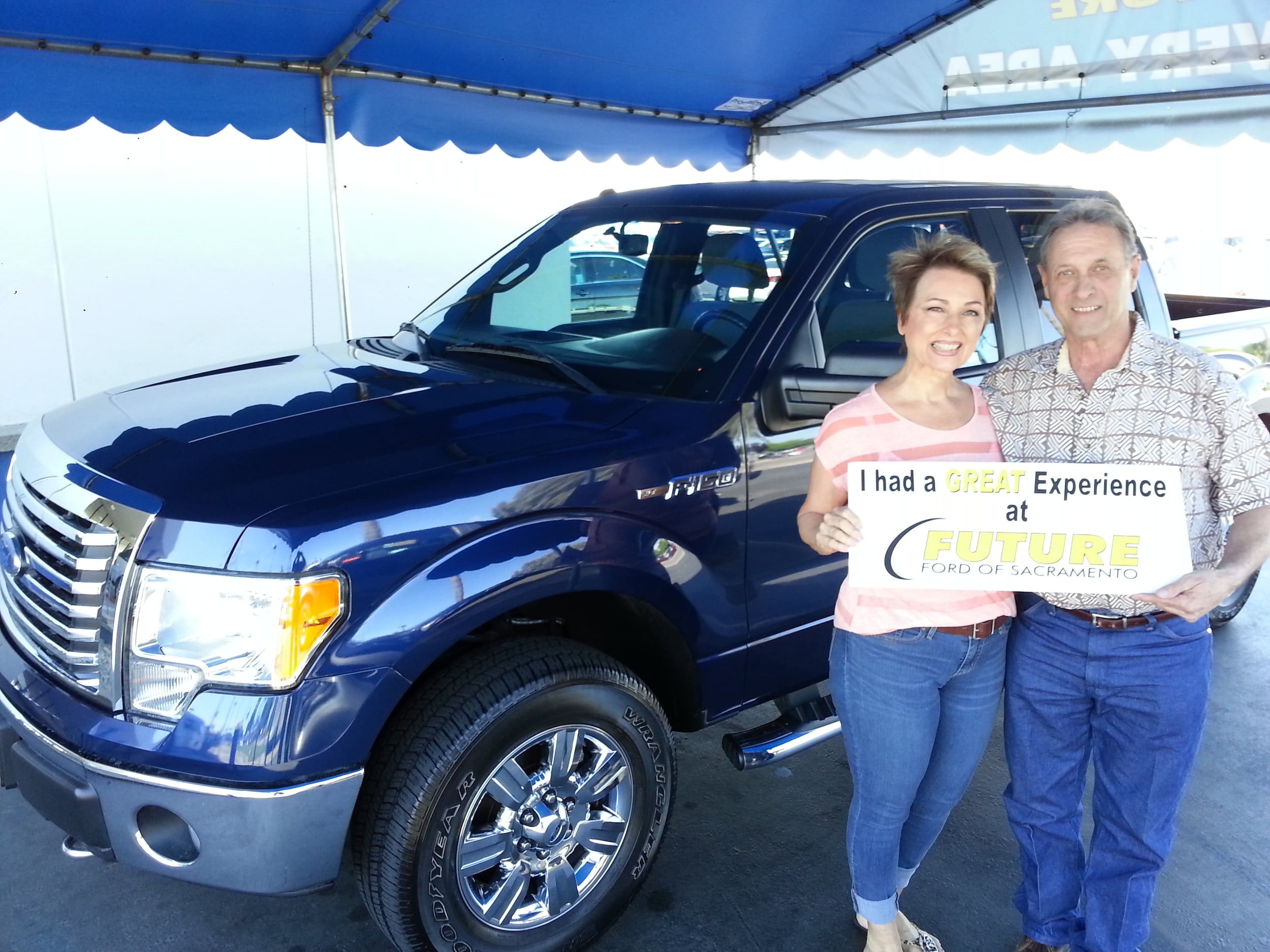 ---
Mr. Collins,
You will recall our conversation of last week regarding my difficulties finding appropriate tire cables for my (my wife's) 2014 Ford Fusion.  You referred me to Mr. Jim Thompkins who promptly called me and arranged with personnel at Radial Tire to fit the car with cables.  Yesterday, Saturday, Kathleen and I went to Radial Tire, and were given first class service immediately which included fitting the Fusion's tires for cables and a lesson for me on cable installation (like I am going to roll around in the snow sometime trying to put on cables!)  Just kidding!  Anyway, I appreciate the expeditious and very courteous handling of this matter and it's very favorable solution.  Also, thanks for paying for the cables.  My dealings with you all were top notch and I just wanted to let you know that.
Best,
- Lary H.

---
I just wanted to thank all 3 of you for helping my daughter, Allison Werner get a car.  Each of you went above and beyond to make that happen.
Rod, when we contacted you about the problems Allison was having with her car in Texas you fixed everything free of charge and made sure Allison had a rental car while the repairs were being made.  I realize you had to put money out of Future Ford's pocket to make it all happen since Allison was out of state and the car couldn't be fixed at your facility.  It's one thing to say you can fix it at your shop it's another to say I will pay someone else to take care of you.  Service doesn't get any better than that!!!
Robert, from the moment I started talking with you I knew you were not an ordinary salesperson.  You have always been genuine and eager to help us.  Normally working with a car salesperson is like swimming in shark infested waters however, that's not the case working with you.  You don't have a shark like mentality so it made working with you a pleasure.  Thank you for listening to us and providing a car that fit within in our overall needs!!!
Scott you didn't have to but you made sure that funding was made available to us so Allison would have a car to drive.  I was devastated when I got the call saying the car was going to have to be returned because no one was willing to be our lender.  Thankfully, you attended to the situation and made sure we were given the financing needed for us to keep the car.  We are current on the loan and could not have purchased the car without your assistance!!!
Words cannot possibly express my gratitude.  I have told everybody I know that if they need a car they should make the drive to Future Ford of Sacramento.  Allison's had the car for almost a year now and she really likes it.  Thank you again gentlemen; we couldn't be happier with car and the customer service we received from each one of you.  Now if you could just get me a new Expedition for $50.00 I'd be singing a new song (ha, ha)!!  All kidding aside, it was a pleasure working with you.  We look forward to working with you in the future.  Have a great weekend.
-Dionne W.

---
Customer:  Rodney Lopez of Sacramento, CA | Vehicle:  2009 Ford Focus | +Sales:  Alex Panchenko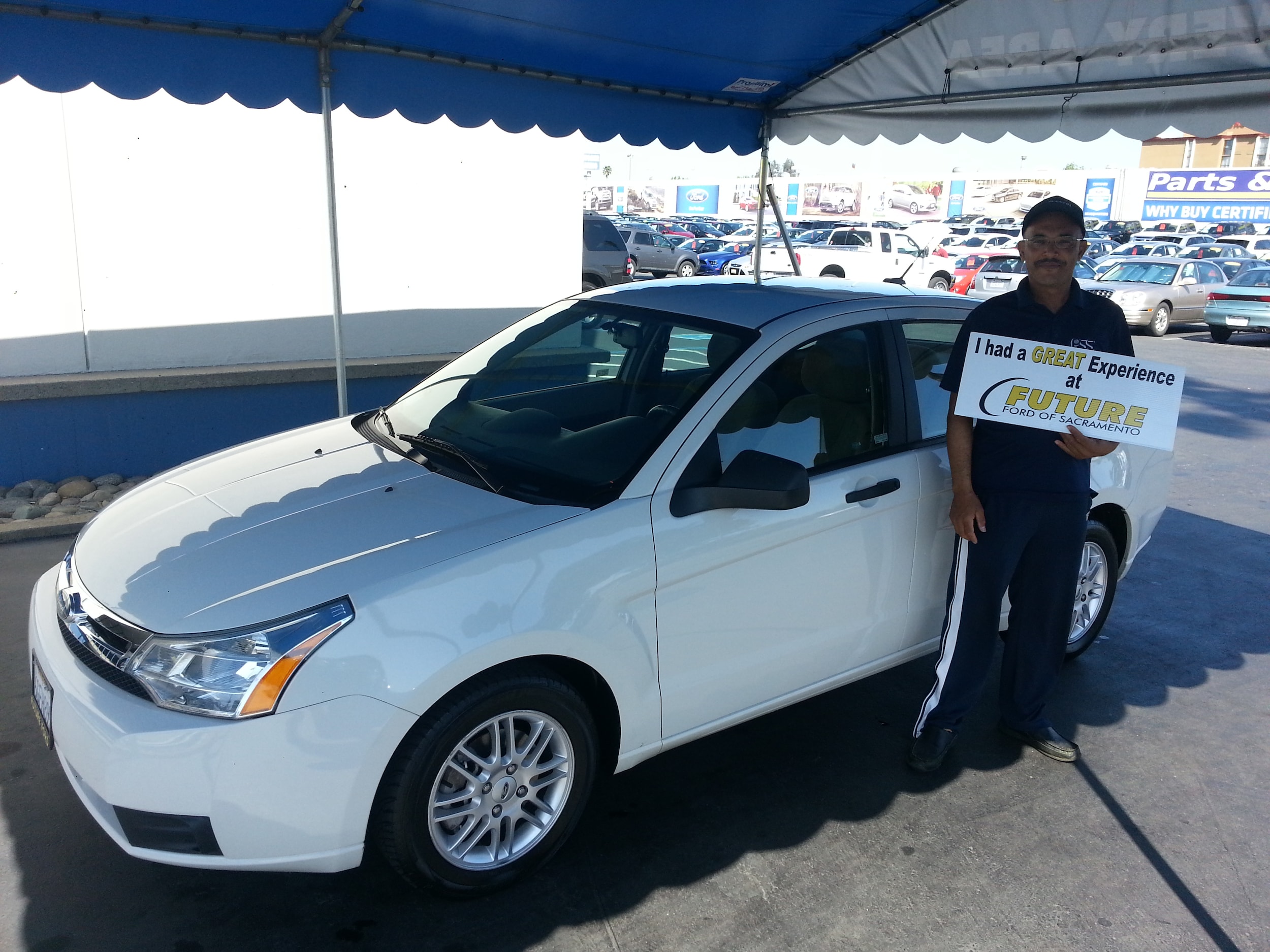 ---
Customer:  Johanna and Chris Keys of Pacifica, CA | Vehicle:  2011 Chrysler Pacifica Minivan | Sales | Andrey Gontar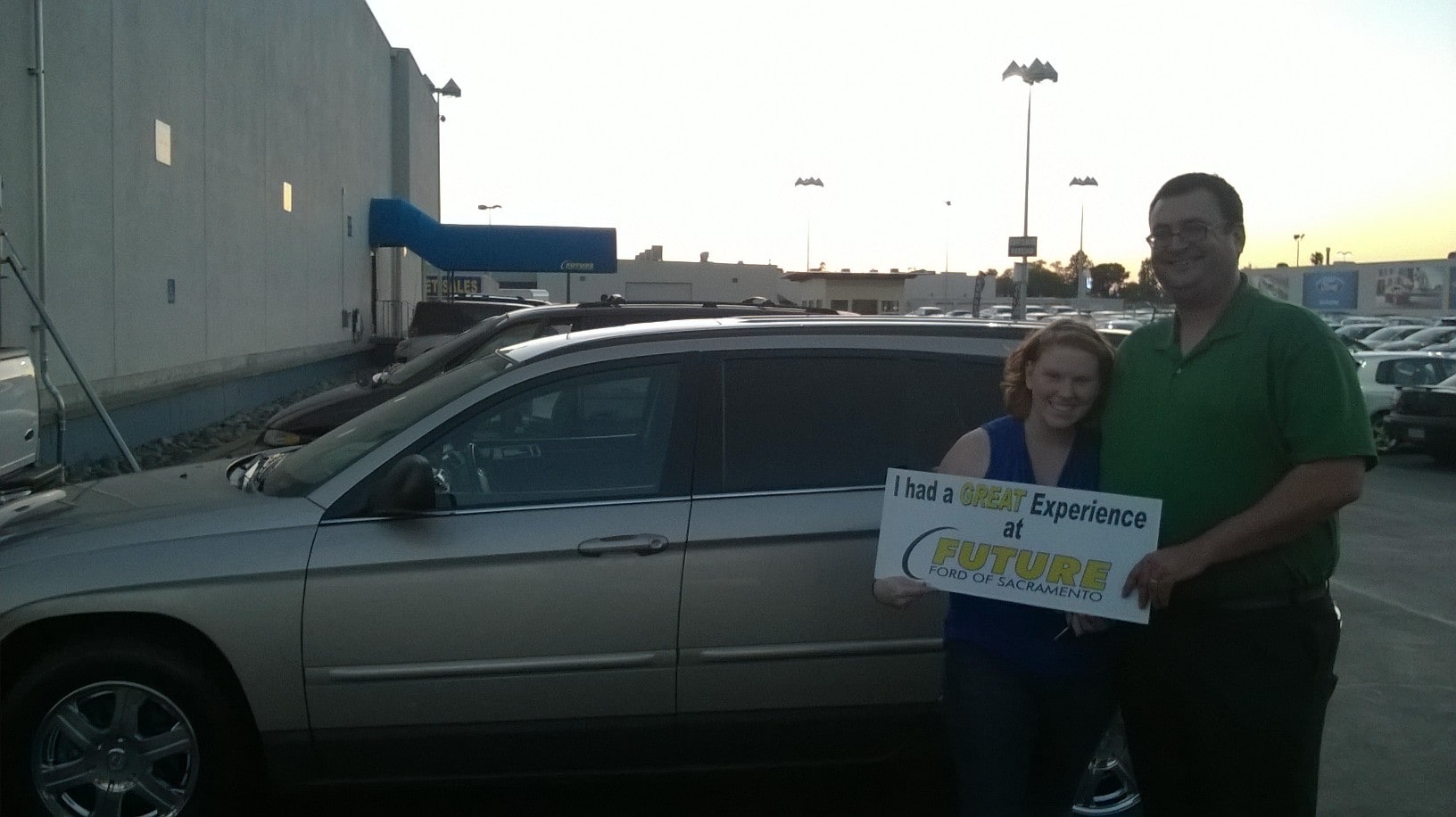 ---
Good Morning Rod,

I just wanted to take the time to tell you what a great experience Tami and I had at your dealership.  Our friendship aside, everyone we came into contact with was exceptional.  The friendliness just in general inside the four walls was incredible. Everyone that walked past us engaged; asking us if we would like water, needed help, or just a "hello."
 The employees that were involved with our transaction were very helpful and professional (Scott, Meysam, and Navid).  Navid went above and beyond for sure dealing with the key issue.
 Thank you again for the great experience
---
Customer:  Adam O'Neal of Sacramento, CA | Vehicle:  2011 Ford Explorer | Sales:  Alex Panchenko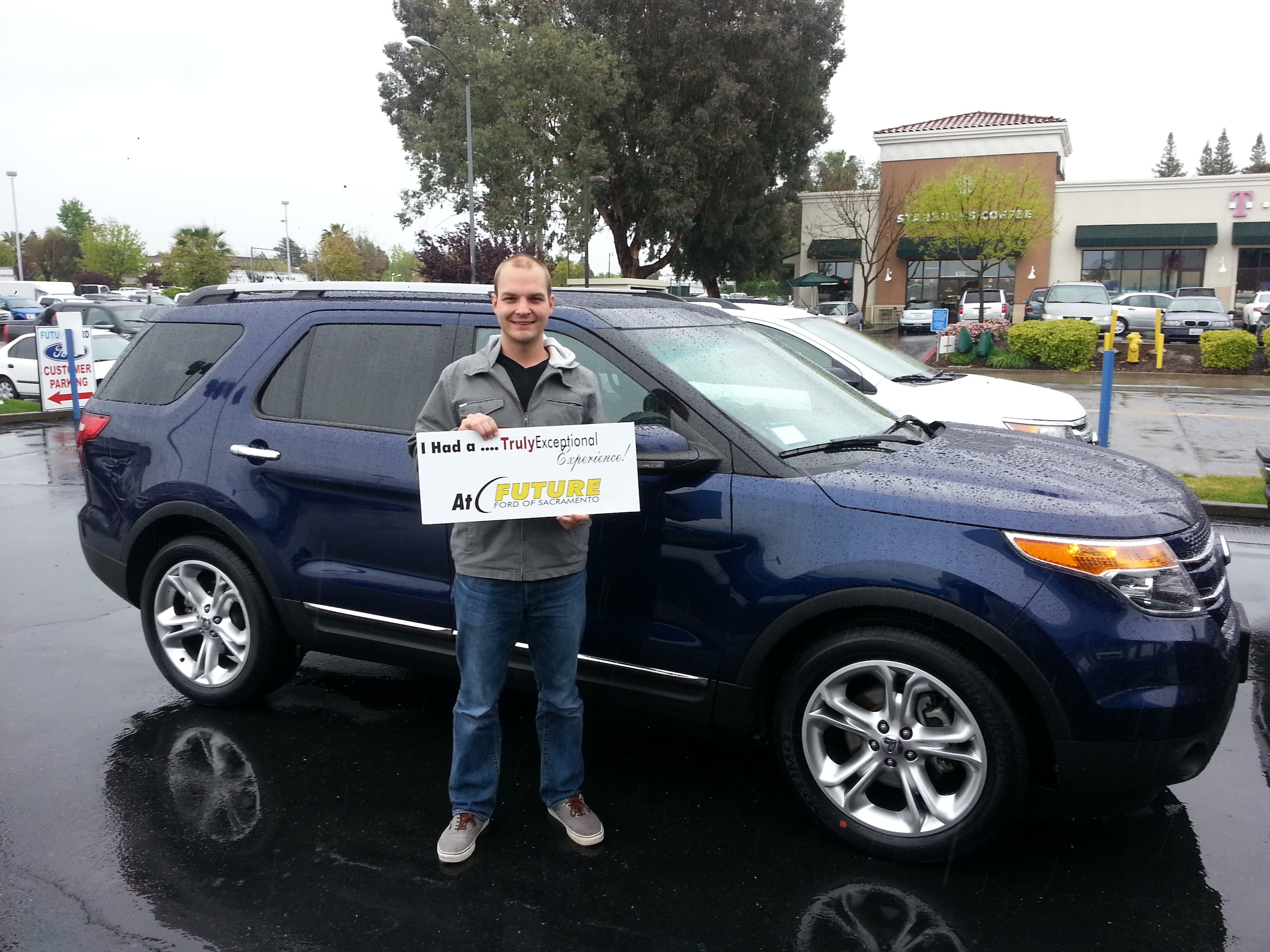 ---
Customer:  Nakia Zinsky of Sacramento, CA | Vehicle:  2008 Toyota Corolla | Sales:  Alex Panchenko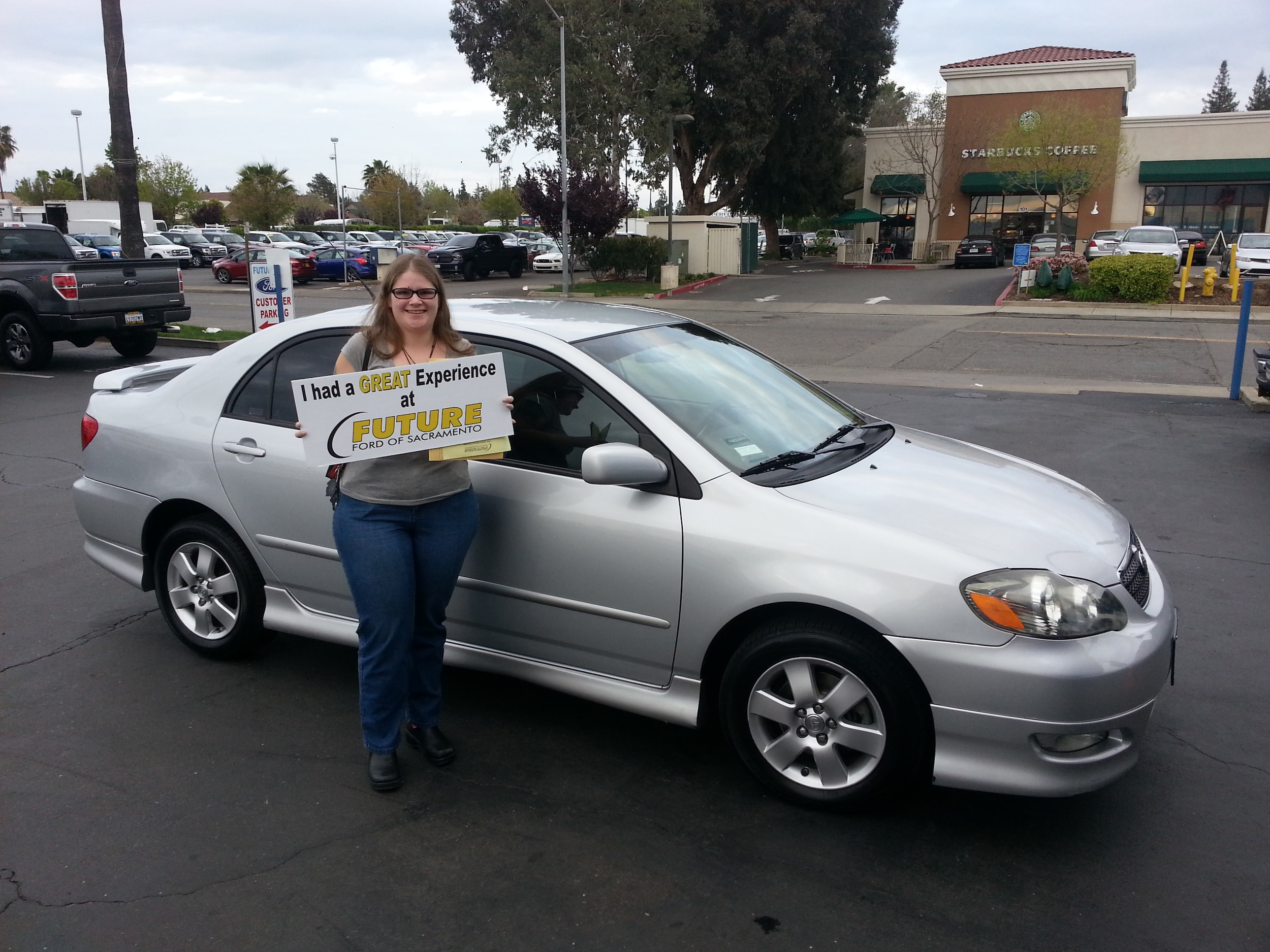 ---
Customer:  Alex Hurst of Brentwood, CA | Vehicle:  2014 Ford F150 | Sales:  Jacob Sherwood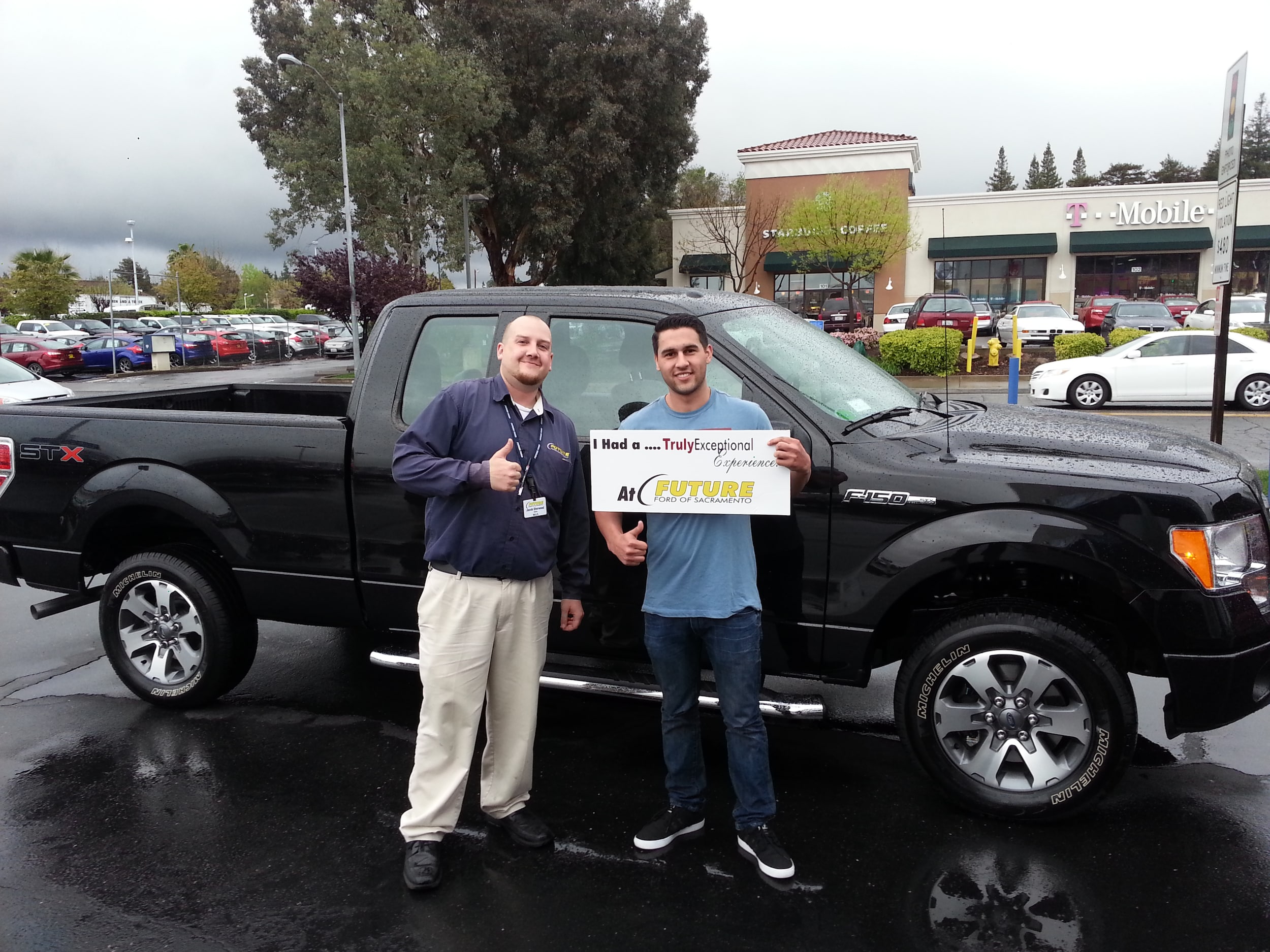 ---
Customer:  Shannon Sober of Corona Del Mar, CA | Vehicle:  2014 Ford Escape Titanium | Sales:  Thomas Sober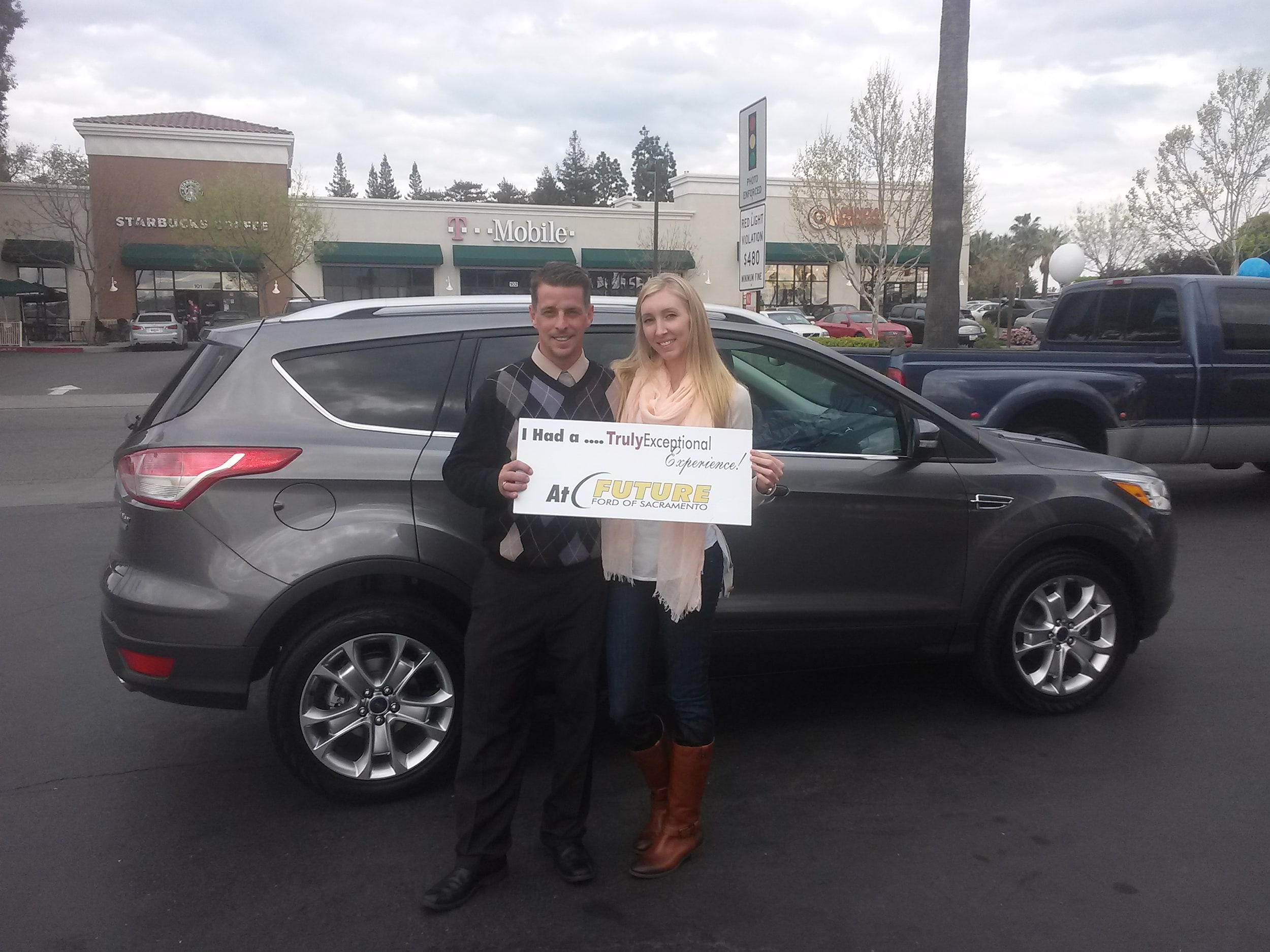 ---
Customer:  Noelle Pratt of New York, NY | Vehicle:  2010 Toyota Camry | Sales:  Travis Withrow and Kathy Burrage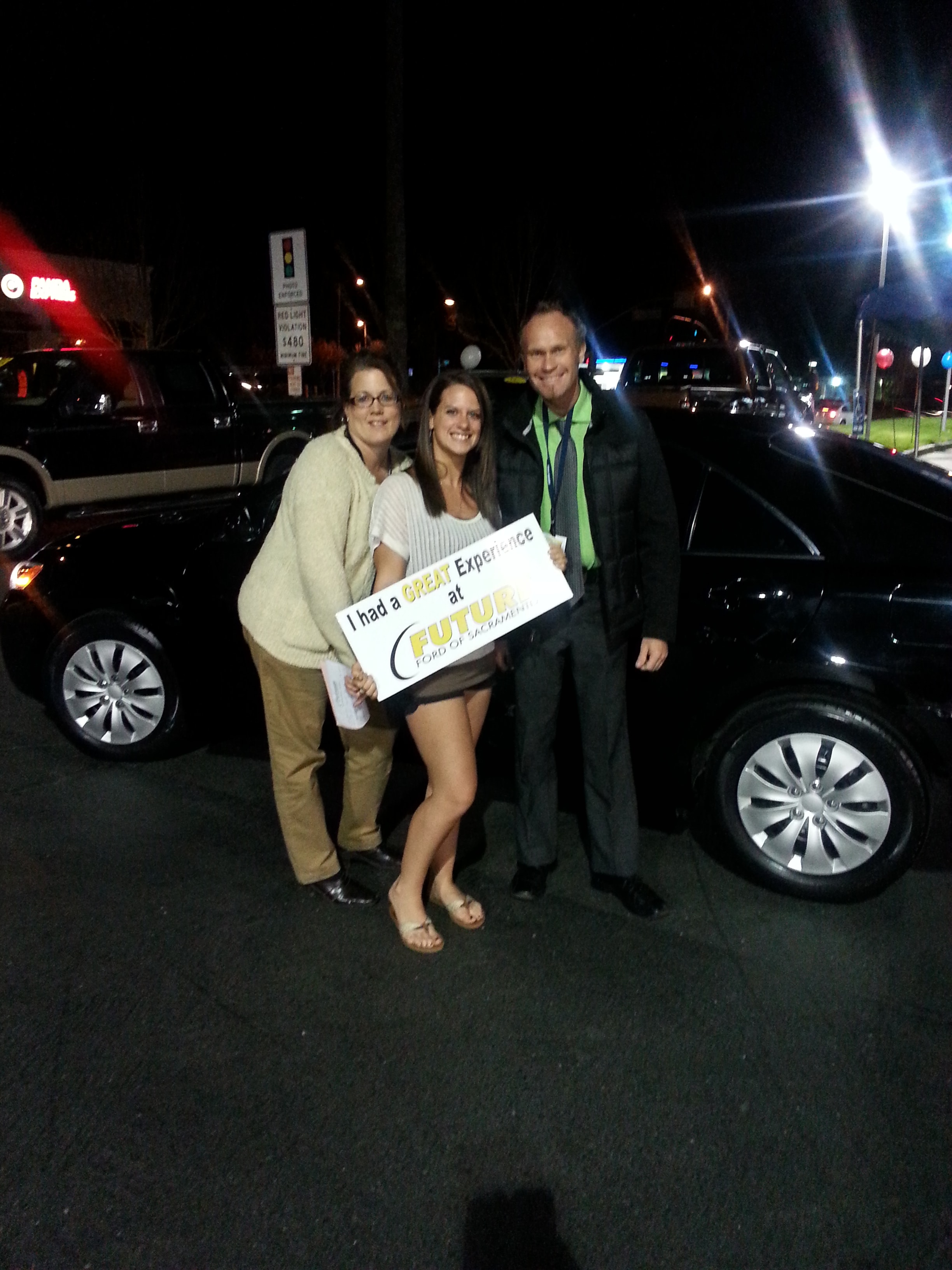 ---
Customer:  Chelsea Odel of Rio Linda, CA | Vehicle:  2014 Ford Fusion SE | Sales:  Steve Burton
---
Julia Fowler from Fair Oaks | New Focus hatchback
---
Customer:  Lavell Fowler of Sacramento, CA | Vehicle:  2014 Ford Taurus SEL | Sales:  Alex Panchenko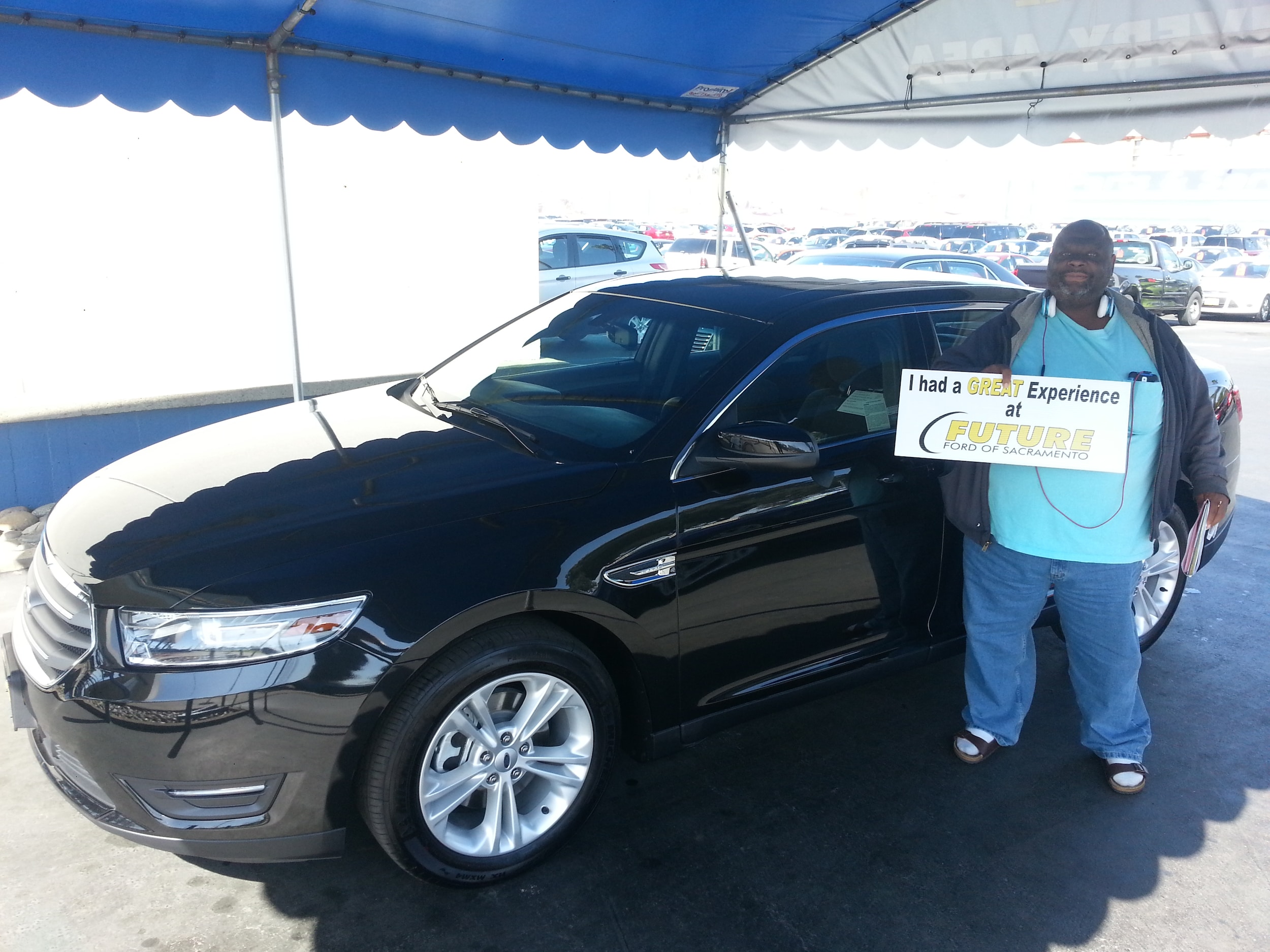 Customer:  Melanie of Sacramento, CA | Vehicle:  2014 Ford F150 FX2 | Sales:  Alex Panchenko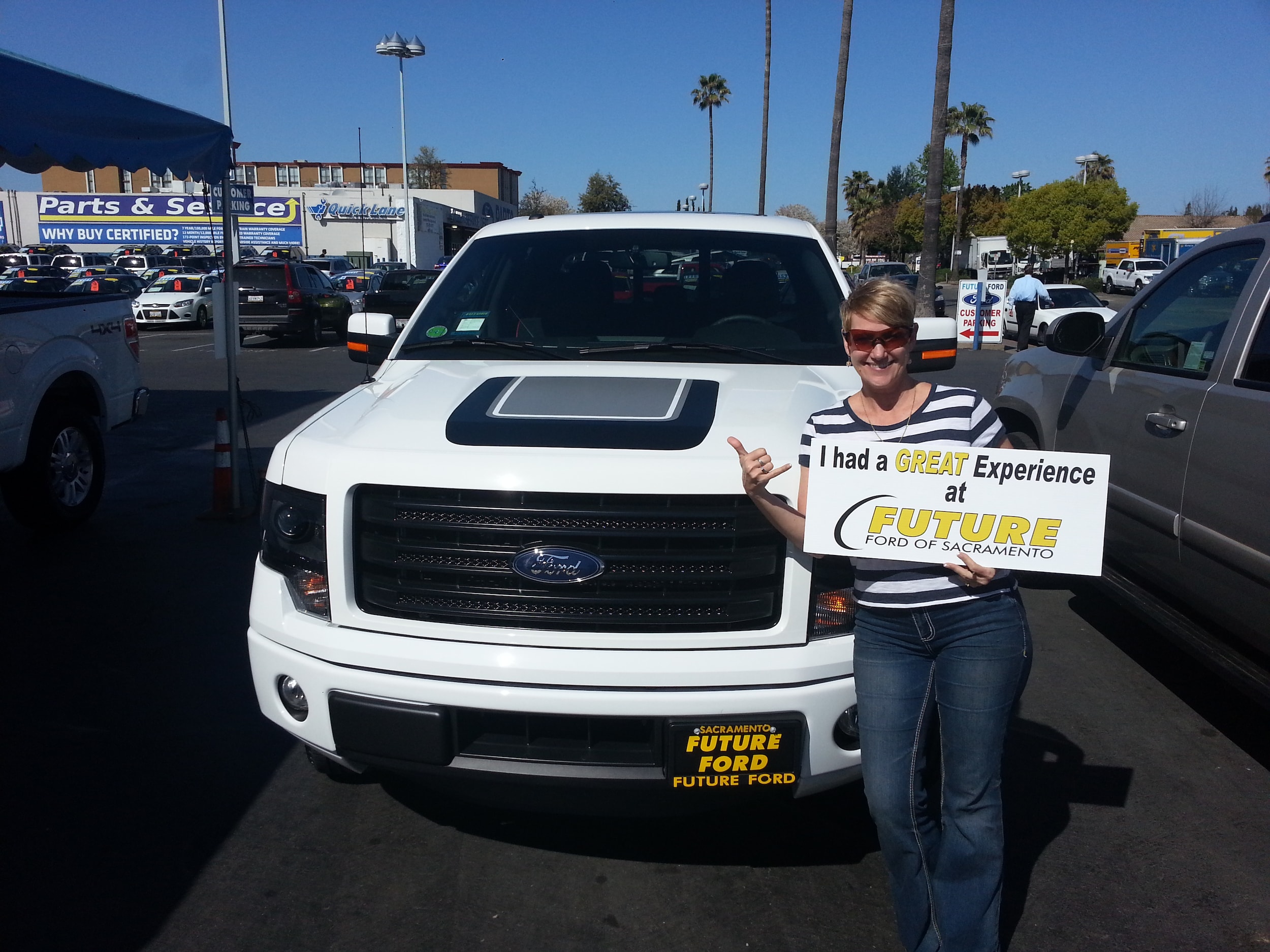 Kelly McCoy from Elk Grove with Obeth Davilla and her new Ford Explorer Sport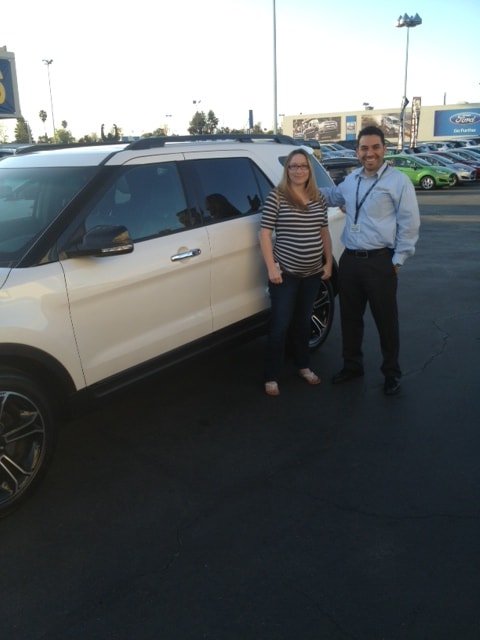 | | |
| --- | --- |
|    |    |